Battery Maritime Building
ICRAVE
Project Info |
Location | New York, NY
Project Date | 2013
Lexicon | Hospitality, Mixed-Use
Responsibilities | Visualization, Design Development
Created for | ICRAVE
Image Specs |
3D Renderings |
3DS Max, V-Ray, Photoshop
Original Image Size(s) |
5000 pixels x 3333 pixels
Description |
This 3d illustration was completed as a design development exercise to showcase and test new design solutions within the historic Battery Maritime Building (BMB) located in lower Manhattan.
The project will contain performance spaces, multiple pre-function spaces, a hotel, a hotel lobby, a bar, a restaurant, and more. It will quickly become a new destination in lower Manhattan.
The illustrations were completed to generate and develop design ideas for the entire project. In total, seven images were created – I was responsible for creating five of the seven.
While creating the images the design was constantly evolving, which means many of the spaces had multiple design iterations.
All items in the scene (except for a few whiskey bottles) were modeled, textured, and lit by kk.
---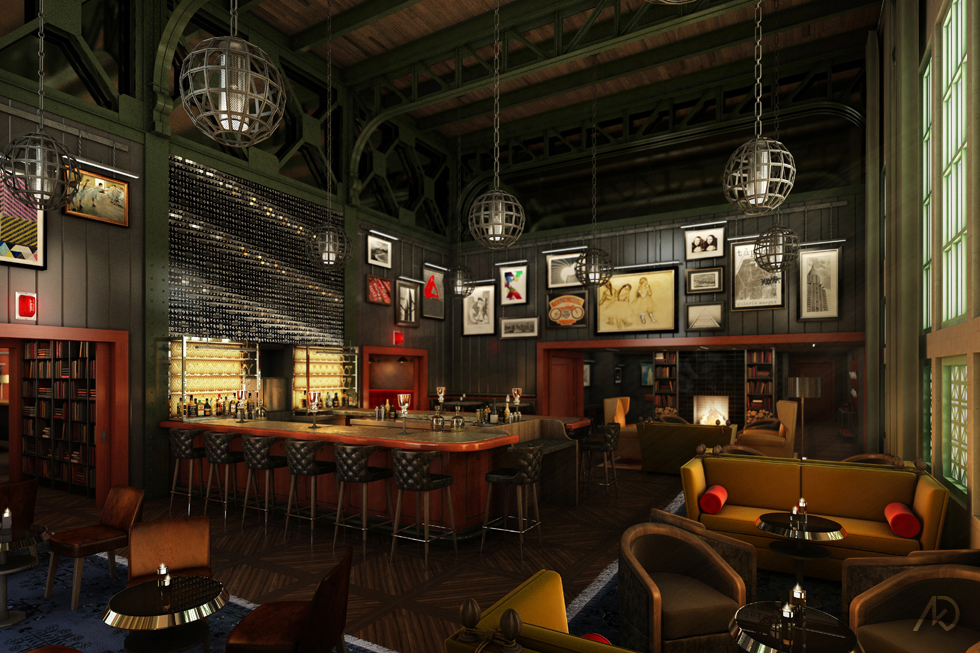 | Hotel Lobby Bar
This space represents the bar adjacent to the hotel lobby (behind the fireplace). The doors on the left lead to the hotel flex space which contains another lounge and two bars.
The purpose of this image was to show the cozy/warm environment, which was carried throughout the project.
---
Entry Lobby |
This illustration shows the lower level entry lobby. This space is used to invite the guests and provide customer service. From here guests may travel up the elevator to the hotel lobby or up to the event pre-function space.
The lobby will also act as an informal art gallery. There will be a constant revolving exhibit to help welcome guests to the facility.
---