Duggal | Navy Yard
Akueous Design M.Arch Architects
Project Info |
Location | Brooklyn, NY
Project Date | 2006
Lexicon | Commercial
Responsibilities | SD, Design, Visualization
Collaboration w/ | M.Arch Architects
Image Specs |
3D Renderings |
3DS Max, V-Ray, Photoshop
Original Image Size(s) |
5000 pixels x 3333 pixels
Description |
This image shows a proposed idea for the new event space/offices for Duggal Visual Solutions. This was done as a collaboration between M.Arch Architects and Akueous Design.
The original space is a very raw warehouse located in Brooklyn's Navy Yard. At the time of the proposal, there was a large push to develop the Navy Yard into a new work/play industrial park. The new
event space would be one of the first new developments.
Duggal was pleasantly surprised by our proposal, but the project was not awarded. In the end, it was a fun design exercise, collaboration, and a chance to showcase our ideas.
---
Concept |
I was approached by M.Arch Architects to help design and visualize a proposal for the new event space. The programming required some office space, but mostly the space was to be used as an event space. The request was to have programmed space for fashion shows, car shows, etc. while having some managerial office space.
The event space was to look good overall and of course be a
memorable space which provides a dramatic backdrop to any event.
In order to maximize the event floor area we decided to hang the office spaces so they would not take-up valuable floor space.
At the same time, we thought that a large hanging office structure would help add to an already dramatic space.
We were definitely going for the wow-factor.
In order to hang the office block we had to add a new bow-truss along the column grid for extra support. We also added a new glass elevator and another egress stair towards the rear of the block.
The hanging office block (actually two blocks) is made of two floor and a top viewing deck which can double as more event space. The block is surrounded by a series of catwalks which connect it to the egress. Each floor has a large open balcony and access to the viewing deck.
We utilized the underside of the office block(s) for dramatic stage lighting; making it easier to light any event that may be in the space.
The rendered image shows a possible car show, but of course, the space is ready for any event.
---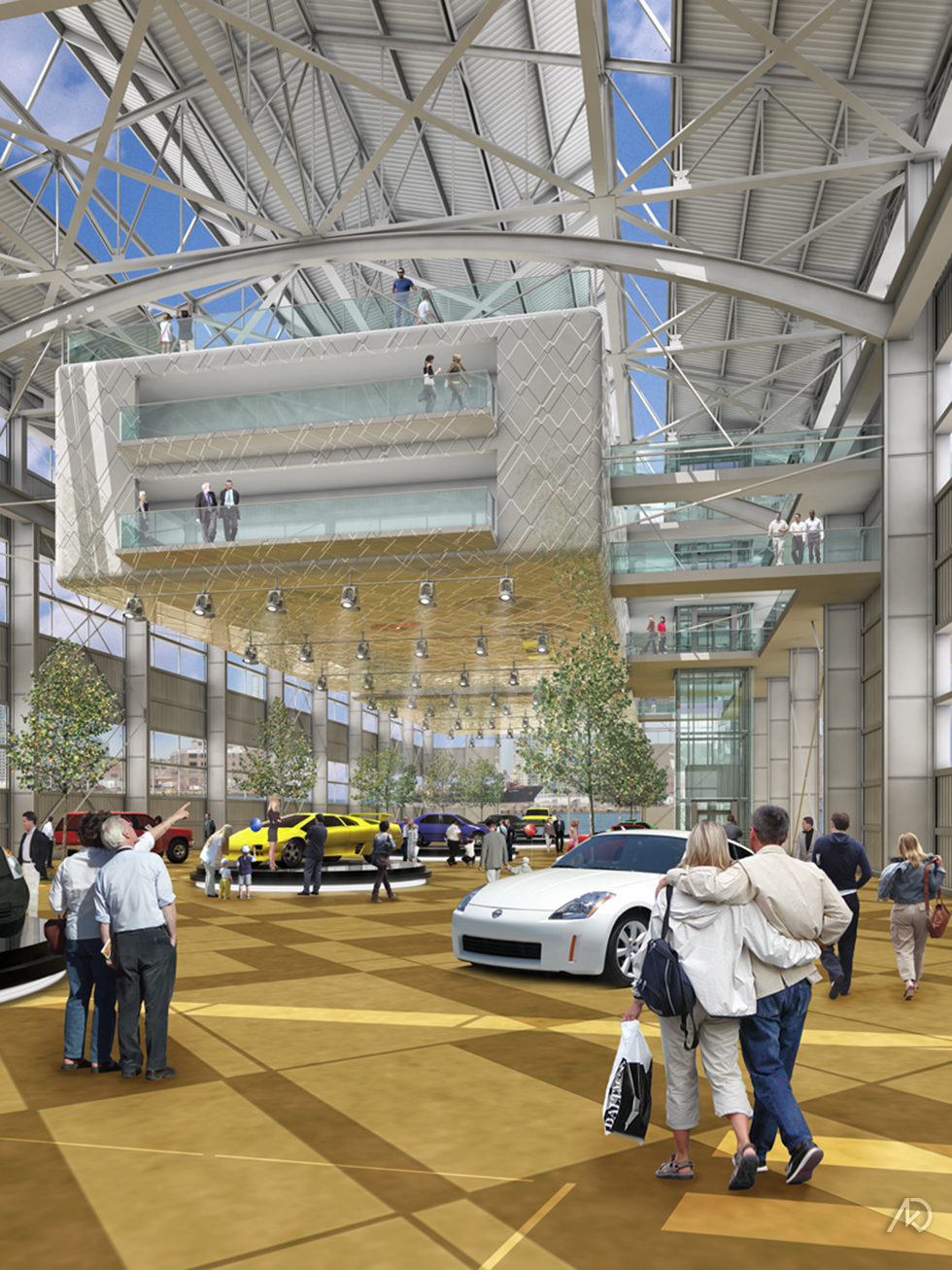 ---