Prado | Lounge
ICRAVE
Project Info |
Location | Saint Petersburg, Russia
Project Date | 2012
Lexicon | Hospitality
Responsibilities | Design Development, Visualization
Created for | ICRAVE
Image Specs |
3D Renderings |
3DS Max, V-Ray, Photoshop
Original Image Size(s) |
3600 pixels x 2400 pixels
Description |
This small lounge is located on the mezzanine level of a restaurant (Prado).
The small design creates a nice little relaxing lounge on a somewhat unusable space. The entire mezzanine is not much larger than what is seen in the rendering.
There are a few dining tables to the right (not seen in rendering), but for the most part this awkward space
was previously unused by the restaurant.
Most of the space is taken-up by the large banquettes, but in the rear (not too visible) is a large padded area. This area is to be used as a possible massage area to add to the relaxing atmosphere.
For this project I created a few interior views to help study what could be placed in this unusual space.
---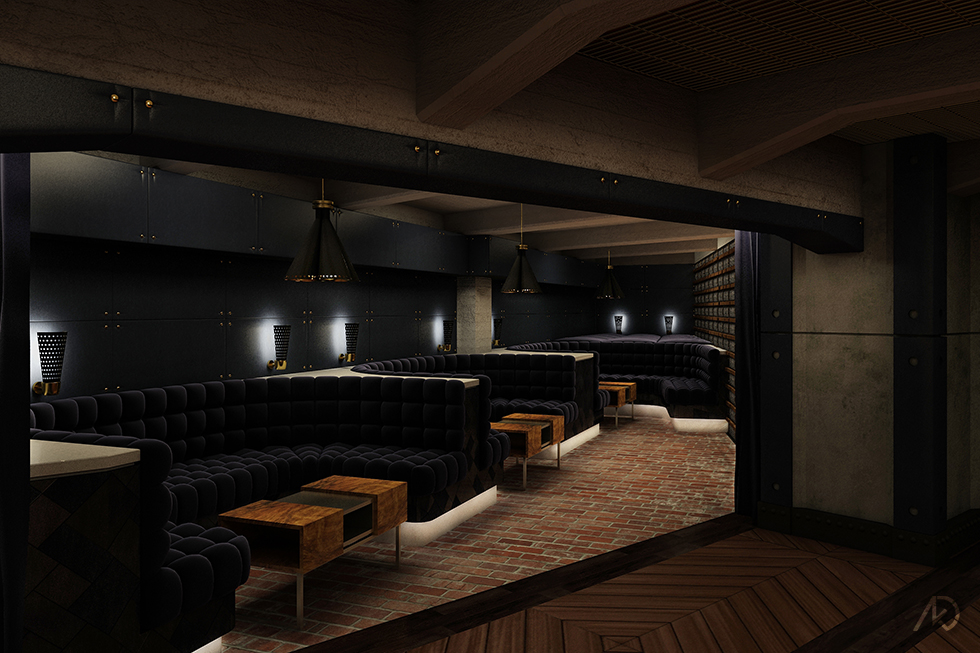 | Mezzanine Lounge
The mezzanine lounge offers a unique space to relax, have a drink, or even get a massage.
The design is tucked into a previously unused space located just to the top of the stairs (on the right, not shown in the rendering).
On the right side/rear, you can see the two-story wine wall that forms the side of the staircase. This allows the mezzanine lounge to be somewhat
more open, and gives a view down into the main dining room.
To the right there are a few two-top dining tables and more wine storage (not shown in the rendering).
---