Chase Residence
Tirmizi Campbell Inc.
Project Info |
Location | New York, NY
Project Date | 2014
Lexicon | Residential
Responsibilities | Visualization
Created for | Tirmizi Campbell Inc.
Image Specs |
3D Renderings |
3DS Max, V-Ray, Photoshop
Original Image Size(s) |
3600 pixels x 2400 pixels
Description |
The following 3d illustrations were commissioned by Tirimizi Campbell in order to visualize a new residential loft in the Tribeca neighborhood of Manhattan.
The view is taken from the living room area and shows the procession of spaces throughout the main loft space.
Within the open layout of the main space one can see the dining area, kitchen, and master closet in the distance.
A great deal of time was spent adjusting the materials, especially the raw steel folding doors that help to enclose the study or tv room.
Most items within the scenes were modeled by kk. All items in the scenes were textured and lit by kk.
---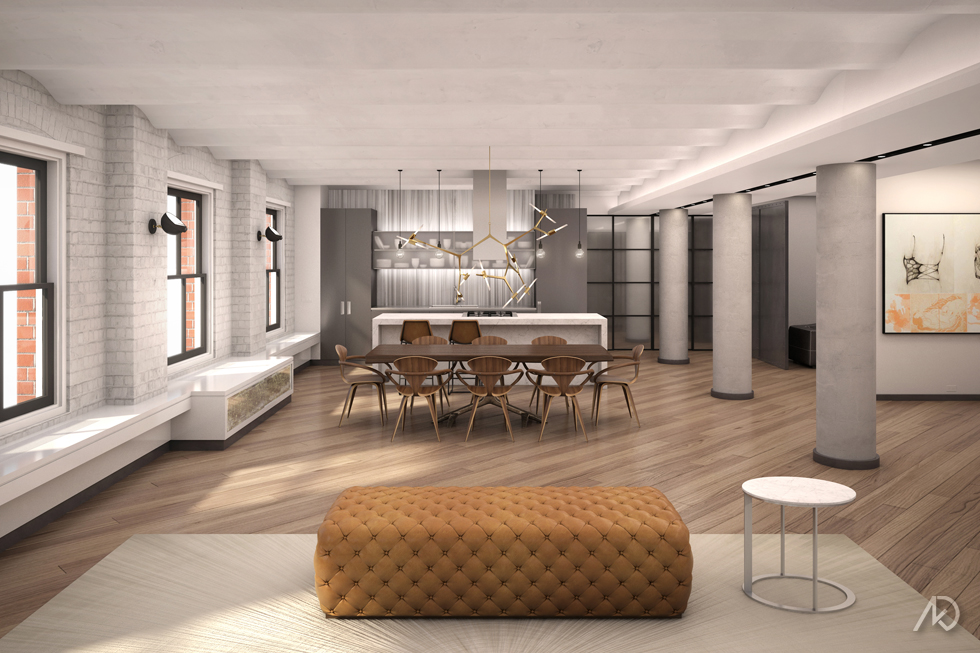 | Loft
The loft itself is washed with a great deal of natural light, which made it somewhat difficult to control some of the material finishes.
There are actually three different shades of black metal, which may be more visible in the kitchen view.
For the model, I tried to keep most of the textures very subtle – like the concrete columns and painted concrete ceiling.
---
Kitchen |
From the kitchen view one can look into the study/tv room which shows the large metal folding doors.
The kitchen, which is a large selling point, displays dark stainless steel cabinets, a marble island, and a striped marble back splash.
For the rendering purposes, I moved the dining room table and chairs out of the view (they would have been seen to the right of the image).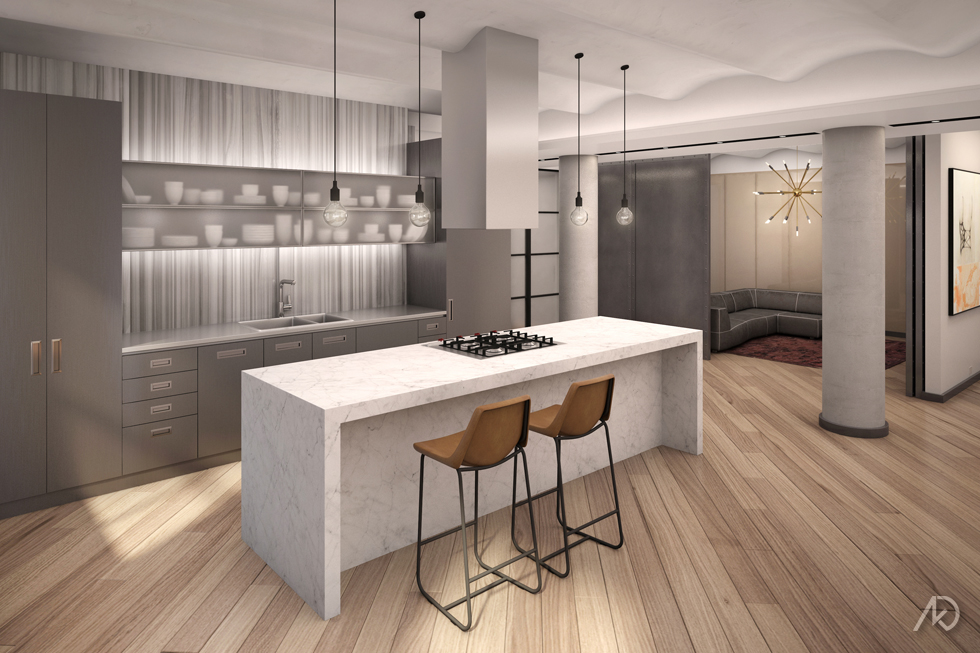 ---